This Article belongs to RFyle11
Kamen Rider Decade X is another rider from the other world travelling into Decade's world to spy on him to see if he's really on the good side or the bad side. He encounters Diend as a challenger and he works alone but sometimes working together. He processed the powers of first, second, third and special riders like Decade and Diend. He's got an X symbol on his helmet (like Kaixa and X) and his armour (like Decade) but it's coloured
green.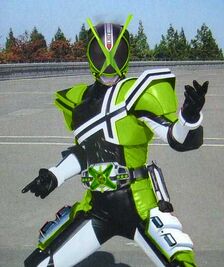 == ==
Kamen Rider Decade X
Edit
Height: 192cm
Weight: 84kg
Punching Power: 10t
Kicking Power: 19t
Maximum Jumping Height: 62
Maximum Running Speed: 100m/4.5
Equipments
Edit
DecadeDriver X - It's similar to Decade's but it got an "X" symbol on it. He puts his card in the DecadeDriver Xand transforms like Decade but it's coloured light and dark green. When the "X" symbol comes to his helmet like Decade and Diend it lights up.
Loading Gun / Sword Booker X- Same like Decade's but it had an "X" symbol on it.
Rider Cards - Like Decade and Diend he uses the crads or first, second, thrid and other riders.