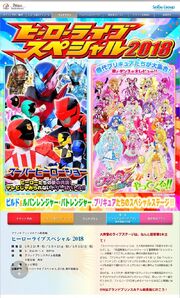 Ultra Super Hero Taisen: All Heroes vs. Ultra-Shocker x Proto Amazonz x Neo Amazonz x Neo-Zangyack x Neo-Fuuma x Super Smash Bros: Super Hero Taisen All-Stars Generations
is an 2018 live-action/animated film which features a crossover between the Ultraman, Kamen Rider, Super Sentai, Metal Heroes, Tomica Heroes, Pretty Cure, Super Smash Bros., Aikatsu! and Chouseishin series.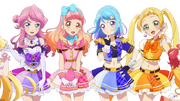 The Ultra-Shocker/Darkness Five Alliance, Proto Amazonz, Neo Amazonz, Neo-Zangyack and Neo-Fuuma are here to take over Pretty Cure and Aikatsu! World. It's up to all Kamen Riders, Super Sentai, Metal Heroes, Tomica Heroes, Pretty Cures, Idols, Ultra Heroes, Smash Bros. Heroes and Chouseishin to defend themselves from the forces of evil before it's too late.
The movie is split into scenes, one for each important part involving different kinds of events.
Scene 1: Introduction (

紹介

Shōkai

?

) - The logos of Toho, Toei, Shochiku, Nikkatsu, Toei Animation, TV Tokyo, Bandai Namco Pictures and Tsuburaya Productions appear one by one. After the logos are done, Aine Yūki, Mio Minato, Nono Hana, Sento Kiryu, Riku Asakura, Kairi Yano and Keiichiro Asaka welcomes everyone in the theater by showing their Hero Super Star Light.
Scene 2: Kyuulette the Chance (

キューレット・ザ・チャンス

Kyūretto Za Chansu

?

)  - Shou Ronpo shows something new that in another dimension lies a number of special Kyutamas. So he sends Lucky, Stinger, Garu, Hammie and Spada to find those new Kyutamas.
Scene 3: Hishikawa Yuuzou is at Pretty Cure and Aikatsu! World - He is Hishikawa Yuuzou. He is on a trip. He's after the exclusive Kamen Riders, Super Sentais, Metal Heroes, Tomica Heroes, Pretty Cures and Idols to capture rare and outstanding shots. Meanwhile Denzimen, Sun Vulcan, Zyurangers, KibaRanger, Kamen Rider OOO, Kamen Rider Gridon, Kamen Rider Ghost, Kamen Rider Ex-Aid, Kamen Rider Brave, Kamen Rider Poppy, Ninningers, Winspector, Metalder, Jiban, RyuuRanger, TenmaRanger, Ohrangers, Kamen Rider Black, Ten veteran Kamen Riders, Diana Lady, Spielban, Shaider, Kamen Rider Delta, Kamen Rider Faiz, Kamen Rider Kaixa, Abarangers, Janperson, Blue SWAT trio, Red Turbo, Pink Turbo, Red Mask, Kamen Rider Black RX, Yellow Lion, FiveRed, FiveBlue, Knight Fire, SolBraver, Jetmen, Sasori Orange, Shishi Red, Kajiki Yellow, Chameleon Green and Ookami Blue are battling monsters.
Scene 4: Kurumi Ryuunosuke and Kurumi Sakura are watching TV - When Kurumi Ryuunosuke and Kurumi Sakura are watching TV about a hate crime of Ultra-Shocker if it hates Idols.
Scene 5: Negative Wave on Star Harmony (

スターハーモニーにネガティブウェーブ

Sutā Hāmonī ni Negatibu Wēbu

?

) - Leaders of Criasu Corporation and Faust attack the Star Harmony Academy grounds, albeit without any effect on Aine, Mio, Maika or Ema.
Scene 6: Mordecai Okumoto and Ben Ichijo's Plan - Their plan is to put a new game called the Proto Kamen Rider Chronicle.
Scene 7: Super Hero Press Conference - Kamen Rider Build, Lupin Red, Patren 1gou, Cure Yell, Ultraman Geed, Aine Yūki and Mio Minato announces the Super Hero Festival, Carnival, Comedy, Manzai, Singing and Dancing Contest.
Scene 8: Tribute to the Gods - Super Heroes are here to visit Blue and Red about Pretty Cure and Aikatsu! World.
Scene 9: With a Going My Way in England - Laura begins her journey in England by making her debut in Manchester, then across the country with monthly stops in York, Birmingham, Plymouth, Norwich, Hastings and London.
Scene 10: Nico and Haima's Testing the Gashacon Drivers - Nico Saiba and Haima Kagami are gonna tested the Gashacon Drivers.
Scene 11: Kurumi Sakura and Hishikawa Ryoko are at the Super Market - Kurumi Sakura and Hishikawa Ryoko are talking about their husbands, Kurumi Ryuunosuke and Hishikawa Yuuzou at their businesses trips.
Scene 12: Kamen Rider Build's Training - Kamen Rider Build is training to test those new Best Matches.
Scene 13: Super Hero Festival, Carnival, Comedy, Manzai, Singing and Dancing Contest - Lupinrangers, Patrangers, Kyurangers, Gokaigers, Dekarangers, Timerangers, Gingamen, Megarangers, Dairangers, Fivemen, Flashmen, Kamen Rider Build, Cure Yell, Cure Ange, Cure Étoile and Cure Chocolat are entering the contest.
Scene 14: Hishikawa Yuuzou Summons - Hishikiawa Yuuzou summons Neo-Gamedeus and Over Falldown Gamedeus.
Scene 15: Kurumi Sakura calls Hishikawa Ryoko - Kurumi Sakura is calling Hishikawa Ryoko about their husbands from their business trips.
Scene 16: Space Squad's Secret Mission - Space Squad are going on a secret mission to Pendulum Dimension.
Scene 17: Space Invaders came out of the Game World -
Scene 18: Forming the team - 
Scene 19: The Final Battle begins -
Scene 20: Happy ending/Celebration/End credits -
Scene 21: In the mid-credits scene - The Smash Bros. Heroes realized that Dr. Q*bert survived and he reveal himself as the Creator of the Gemstone. And he's with the organization called the Unified Nether Army. In the post-credits scene. Mario, Sonic, Mega Man, Pac-Man, Twilight Sparkle, Sunset Shimmer, Sento Kiryu, Riku Asakura, Captain Marvelous, Tsukasa Kadoya, Kairi Yano, Keiichiro Asaka, Lucky, Emu Houjou, Eiji Hino, Takeru Tenkuji and Geki Jumonji announces Minecraft Dimensions.
Characters
Edit
Go Pretty Cures
Edit
| | |
| --- | --- |
| Space Sheriff Gavan Type‑G | Geki Jumonji |
| Kyoryu Violet | Yayoi Ulshade |
| Kamen Rider Fourze Fire States | Gentaro Kisaragi |
| | |
| --- | --- |
| Neo-Jetman 1 | J1 |
| Magne Warrior | Shota Yamamori |
| KingRanger | Riki |
| DekaMaster | Anubian Chief Doggie Kruger |
| Zyuoh The World | Misao Mondo |
| | |
| --- | --- |
| Kamen Rider Amazon | Daisuke Yamamoto |
| Kamen Rider Amazon Omega | Haruka Mizusawa |
| Kamen Rider Amazon Alpha | Jin Takayama |
| Kamen Rider Amazon Sigma | Jun Maehara |
| Kamen Rider Amazon Neo | Chihiro |
| | |
| --- | --- |
| Zyuoh Tiger | Amu |
| GaoWhite | Sae Taiga |
| GingaPink | Saya |
| Cure Macaron | Kotozume Yukari |
| | |
| --- | --- |
| Kamen Rider Wizard | Haruto Soma |
| Cure Miracle | Asahina Mirai |
| MagiBlue | Urara Ozu |
| B-Fighter Min | Li Wen |
| | |
| --- | --- |
| Alternative | Hajime Nakamura |
| Kamen Rider Dark Necrom Y | Jey |
| Birdman | Dan |
| Gosei Green | Magis |
| Kamen Rider Psyga | Leo |
| | |
| --- | --- |
| Kamen Rider Den‑O Ax Form | Kintaros |
| | |
| | |
| --- | --- |
| Blue Mask | Akira |
| Cure Fortune | Hikawa Iona |
| Jiraiya | Toha Yamaji |
| | |
| --- | --- |
| Kamen Rider Kiva | Wataru Kurenai |
| Kamen Rider Saga | Taiga Nobori |
| Kamen Rider Dark Kiva | King |
| Kamen Rider Kiva-la | Megumi Aso |
| | |
| --- | --- |
| Kamen Rider Gridon | Hideyasu Jonouchi |
| Grey Swat | Sig |
| | |
| --- | --- |
| Zyuoh Elephant | Tusk |
| Cure Ace | Madoka Aguri |
| | |
| --- | --- |
| Kamen Rider 3 | Kyoichiro Kuroi |
| X1 Mask | Ryo Asuka |
| Spear Ninja Toppa | Ryu Asuka |
| R5 | Eiji Ishiguro |
Subaru Yūki
Madoka Amahane
| | |
| --- | --- |
| Kamen Rider Den‑O Wing Form | Sieg |
| Takkard | Takkard |
| Gosei Yellow | Moune |
| Zyuoh Bird | Bud |
| | |
| --- | --- |
| Kamen Rider Beast | Kosuke Nitoh |
| | |
| --- | --- |
| Cure Gelato | Tategami Aoi |
| Stag Buster | Beet J. Stag |
| Toraboruto | Toraboruto |
Akari Ōzora
Seira Otoshiro
Yume Nijino
Elza Forte
Ayumi Naruse
| | |
| --- | --- |
| Kyoryu Red | Daigo Kiryu |
| Battle Cossack | Makoto Jin |
| | |
| --- | --- |
| Kamen Rider Den-O (Gun) | Ryutaros |
| Cure Passion | Setsuna Higashi |
| | |
| --- | --- |
| Kamen Rider Zangetsu | Takatora Kureshima |
| Spielban | Yousuke Jou |
| Shinken Blue | Ryunosuke Ikenami |
Ran Shibuki
Nina Dojima
Minami Hateruma
Lilie Shirogane
Kirari Mori
Aine Yūki
Mio Minato
Maika Chōno
Ema Hinata
Otome Arisugawa
Sakura Kitaoji
Shion Kamiya
Ultraman Ace
Sumire Hikami
Rin Kurosawa
Mizuki Kanzaki
Juri Kurebayashi
Hinaki Shinjō
Johnny Bepp
Anna Hibiki
Sunny
Tiara Yumesaki
| | |
| --- | --- |
| Sazer Mithras | Mika Shido |
| Sazer Visuel | Ran Saotome |
| Sazer Velsou | Ryoko Amemia |
| Sazer Pisces | Ai Uozumi |
| Riser Kageri | Yuka Sanada |
Primary Characters
Edit
Jin/Red Flash
Dai/Green Flash
Bun/Blue Flash
Sara Tokimura/Yellow Flash
Lou/Pink Flash
Gaku Hoshikawa/FiveRed
Ken Hoshikawa/FiveBlue
Fumiya Hoshikawa/FiveBlack
Kazumi Hoshikawa/FivePink
Remi Hoshikawa/FiveYellow
Ryo of the Heavenly Fire Star/RyuuRanger
Daigo of the Heavenly Phantom Star/ShishiRanger
Shoji of the Heavenly Gravity Star/TenmaRanger
Kazu of the Heavenly Time Star/KirinRanger
Rin of the Heavenly Wind Star/HououRanger
Kou of the Howling New Star/KibaRanger
Kenta Date/MegaRed
Kouichirou Endou/MegaBlack
Shun Namiki/MegaBlue
Chisato Jougasaki/MegaYellow
Miku Imamura/MegaPink
Yuusaku Hayakawa/MegaSilver
Ryouma/GingaRed
Hayate/GingaGreen
Gouki/GingaBlue
Hikaru/GIngaYellow
Saya/GingaPink
Hyuuga/Black Knight
Tatsuya Asami/TimeRed
Yuri/TimePink
Ayase/TimeBlue
Sion/TimeGreen
Naoto Takizawa/TimeFire
Banban "Ban" Akaza/DekaRed
Houji "Hoji" Tomasu/DekaBlue
Sen'ichi "Sen-chan" Enari/DekaGreen
Marika "Jasmine" Reimon/DekaYellow
Koume "Umeko" Kodou/DekaPink
Tekkan "Tetsu" Aira/DekaBreak
Anubian Chief Doggie Kruger/DekaMaster
Cignian Swan Shiratori/DekaSwan
Marigold Utahime/DekaGold
Lisa Teagle/DekaBright
Omega/DekaRed
Mash/DekaRed
Gaia/DekaRed
Delta/DekaRed
Silver/DekaRed
Captain Marvelous/Gokai Red
Joe Gibken/Gokai Blue
Luka Millfy/Gokai Yellow
Don Dogoier/Gokai Green
Ahim de Famille/Gokai Pink
Gai Ikari/Gokai Silver
Lucky/Shishi Red
Stinger/Sasori Orange
Garu/Ookami Blue
Balance/Tenbin Gold
Champ/Oushi Black
Naga Ray/Hebitsukai Silver
Hammie/Chameleon Green
Raptor 283/Washi Pink
Spada/Kajiki Yellow
Shou Ronpo/Ryu Commander
Kotaro Sakuma/Kougama Blue
Tsurugi Ohtori/Houou Soldier
Kairi Yano/Lupin Red
Tooma Yoimachi/Lupin Blue
Umika Hayami/Lupin Yellow
Keiichiro Asaka/Patren Ichigo
Sakuya Hikawa/Patren Nigo
Tsukasa Myoujin/Patren Sango
Katsumi Minato/Ultraman Rosso
Isami Minato/Ultraman Blu
Mario
Link
Kirby
Pikachu
Pit
Shulk
Sonic the Hedgehog
Pac-Man
Megaman
Solid Snake
Ryu
Cloud Strife
Bayonetta
Donkey Kong
Fox McCloud
Samus Aran
Ness
Yoshi
Luigi
Captain Falcon
Jigglypuff
Princess Peach
Bowser
Marth
Ice Climbers
Pichu
Roy
Falco Lombardi
Zelda/Shiek
Gannondorf
Mewtwo
Mr. Game & Watch
R.O.B.
Ike
Meta Knight
King Dedede
Kanto Pokémon Champion Red (w/Ivysaur, Charizard, Squirtle, Tauros, Snorax, Scyther and Lapris)
Diddy Kong
Wolf O'Donnell
Toon Link
Chrom
Lucina
Robin
Bowser Jr. and the Kooplings
Little Mac
Lucario
Greninja
Palutena
Wario
Dark Pit
Minor Characters
Edit
Cheeda Nick
Gorisaki Banana
Usada Lettuce
Honoka Tsukikage
Johnny Bepp
Orihime Mitsuishi
Mizuki Kanzaki
Anna Tachibana
Asuka Amahane
Tiara Yumesaki
Raichi Hoshimiya
Noeru Otoshiro
Ringo Hoshimiya
Naoto Suzukawa
Muraki
Kurosaki
Wakunabe
Rei Kamishiro
Kakeru Ōta
Sakon Kitaoji
Aki Tachiishi
Saki Hashiba
Takako Otoshiro
Taichi Hoshimiya
Sōta Otoshiro
Hikari Minowa
Palm
Michelle Tachibana
Asami Himuro
Hiro
Shurato
King
Aoi Kiriya's Parents
Captain Tomborg
Shōichi Fujisaki
Sanae Saegusa
Llama-chan
Ame-chan
Mr. Kido
Makina
Shun Imai
Miku Adachi
Mikako Tokitou
Miwa Asakura
Etsuko Misumi
Shou Mamiya
Koharu Ōzora
Rion
Nagisa Tsutsumi
Chimaki Mochida
Fujiyama
Kyaku
Yūta Sōma
JK
Kengo Utahoshi
Yuki Jojima
Shun Daimonji
Chuta Ohsugi
Miu Kazashiro
Tomoko Nozama
Haru Kusao
Ran Kuroki
Shigeru Wajima
Shunpei Nara
Rinko Daimon
Koyomi
Iyo
Kiyojiro Bando
Mai Takatsukasa
Chucky
Rica
Rat
Akira Kazuraba
Chiyoko Shiraishi
Hina Izumi
Shingo Izumi
Erika Satonaka
Santa-chan
Watcherman
Queen & Elizabeth
Fairy Bokku
Woman of the Beginning
Kayoko
Robbie Suzuki
Aya Nakahara
Mai Shirafuji
Maguro
Marcel
Maya Yumekōji
Makoto Nijigahara
Green Grass
Nicolas Gordon
AkaRed
Head Professor Kenzo Mukai
Eleena
Shelly
Mimi
Lily
Annie
Sisi
Tamy
Toku Tokui
Shunsuke Masaki
Jukichi Katsuragi
Blue
Ribbon
Glasan
Conductor
Ticket
Wagon
Kaoru
Principal
Kometsuki Kyouto
Miyashita-san
Takenouchi Yoshimi
Takashimizu Rina
Kubota Shiho
Odajima Yuka
Koshino Natsuko
Mori Kyoko
Nakagawa Yumiko
Tabata Nao
Kagayama Miu
Seiko Taniguchi
Fujimura Shougo
Kimata
Hasekura Kazuki
Kiriya
Misumi Ryouta
Misumi Rie
Misumi Takeshi
Yukishiro Sanae
Yukishiro Taro
Yukishiro Aya
Kujou Hikaru
Fujita Akane
Yui Morioka
Chiaki Yabe
Shinohara-sensei
Suzuki Asuka
Hoshino Kengo
Hoshino Shizue
Okai-sensei
Kiryuu Michiru
Kiryuu Kaoru
Hoshino Kenta
Itou Hitomi
Outa Yuuko
Takeuchi Ayano
Andou Kayo
Manabu Miyasako
Mishou Kanako
Mishou Kouichirou
Mishou Kazuya
Nikaidou
Izumida
Junge
Nigi Nigi
Tomoya
Kuroshio Pitcher
Res Res
Ayano Takeuchi
Reiko
Nitta
Masuko Mika
Miyamoto Kanako
Otaka-san
The Headmaster
Yumehara Tsutomu
Yumehara Megumi
Natsuki Kazuyo
Natsuki Yu
Natsuki Ai
Kasugano Michel
Kasugano Heizou
Washio Kouta
Akimoto Madoka
Jii-ya/Sakamoto
Kaori Konno
Aki Yamamoto
Miho Saitou
Eri Nakazawa
Miku Suehiro
Yoshimi Morita
Bunbee
Kawarino
Chika
Momozono Keitarou
Momozono Ayumi
Aono Remi
Ichijo Kazuki
Yamabuki Tadashi
Yamabuki Naoko
Chinen Miyuki
Chinen Daisuke
Sawa Yuuki
Mikoshiba Kento
Reika and Nana
Asou
Yumi
Takeshi
Jeffrey
Juliane
Gordon
Hayato Nishi
Shun Minami
Tsurusaki
Myoudouin Gentarou
Kurumi Momoka
Sawai Naomi
Sakuma Toshiko
Shiku Nanami
Ueshima Sayaka
Miura Akira
Tada Kanae
Kuroda Rumiko
Takagishi Azusa
Mizushima Aya
Kudou Mayu
Ikeda Aya
Ban Kenji
Sugiyama
Gou Sugiyama
Sakai Masato
Matsumoto Kyouko
Nishiara
Hayashi Yuuki
Hifumi Satou
Hanasaki Kaoruko
Hanasaki Mizuki
Hanasaki Youichi
Karin Tsuyuki
Kurumi Sakura
Kurumi Ryuunosuke
Shiku Rumi
Tsukikage Haruna
Myoudouin Satsuki
Myoudouin Tsubaki
Toshioka Yuuto
Shibata Risa
Ueshima Sayaka
Ogasawara Mao
Kumazawa Ayumi
Ban Keiko
Obata
Nakaro Mitsuru
Hayashi Yuuki
Aki Horiuchi
Tadashi Horiuchi
Chizuko Harano
Shoujirou Harano
Masakazu Haran
Hiroto
Higashiyama Seika
Minamino Souta
Minamino Sousuke
Minamino Misora
Hojo Dan
Hojo Maria
Nishijima Waon
Masamune Ouji
Arisa
Rena
Hakushaku
Baron
Knight
Megumi
Sasaki Namie
Horike
Edou Mika
Okada Mayu
Onoushiro Kiyomi
Kashimoto Mayuka
Kanemoto Hiroko
Kisumi Mayumi
Kitaoka Junko
Fujikawa Ami
Honda Aya
Wakabayashi Kaori
Toyashima Hidekazu
Nakada Zenjirou
Nogawa Kenji
Matsuya Kazuaki
Munemoto Shinya
Yanadani Yuusaku
Waki Daisuke
Inoue Seiji
Inuzuka Shirou
Okabe Katsutoshi
Kijita Kazufumi
Kitahara Tomofumi
Kimura Satoshi
Satou Kazuya
Fukuda Tadaaki
Council President Irie
Terada Runa
Yuka
Souga
Hoshizora Hiroshi
Hoshizora Ikuyo
Hoshizora Tae
Hino Daigo
Hino Masako
Kise Chiharu
Midorikawa Genji
Midorikawa Tomoko
Midorikawa Keita
Midorikawa Haru
Midorikawa Hina
Midorikawa Yuuta
Midorikawa Kouta
Midorikawa Yui
Aoki Soutarou
Aoki Shizuko
Aoki Junnosuke
The Policeman
Yura
Juujou Hiroshi
Saotome Jun
Nikaidou Takuya
Momota Tsubasa
Yashima Chihiro
Mimura
Kyouda
Regina
Juujou
Nikaidou
Nimura
Chiba
Kyouda
Michiko
Aida Ayumi
Aida Kentaro
Bando Sokichi
Hishikawa Ryoko
Hishikawa Yuuzou
Yotsuba Ichiro
Yotsuba Seiji
Yotsuba Shouko
Yotsuba Hiromichi
Madoka Mari
Itsutsuboshi Reina
Ootori Tamaki
Morimoto Eru
Harada
Haruna
Karuta Queen
Aki Kadono
Izumi
Nakano
Shiina Elena
Furuta Kana
Takano Rei
Ishigami Rin
Hitomi
Yamazaki Kenta
Kaido Yuya
Jindaiji Mami
Kariyazaki
Sagara Mao
Aino Kaori
Omori Yoko
Omori Takeo
Omori Ai
Omori Ine
Omori Yonezo
Masuko Miyo
Aino Masaru
Mii-chan
Yukiko
Hiro Takuma
Eri
Daisuke
Sachiyo
Gon
Jindaiji Hisashi
Nobuko Mitsuya
Serio Kamino
Karen Kurebayashi
Sergeant Pepper
Katou
Azusa Hikami
Tomoyo Shirosawa
Sebastion
Sagara Seiji
Haru Yotsuba
Matsuri Hasegawa
Mirai Amane
Takafuji Yukiko
Kanon
Mikuru Natsuki
Ancielo Atsuji
Ikuyo Inamura
Mika Momoi
Sayuki Nanase
Hikaru Morohoshi/Kamen Rider Black Saver
Subaru Yūki/Kamen Rider Den-O Super Liner Form
Nozomu Igarashi/Kamen Rider Den-O Vega Form
Asahi Kasumi/Kamen Rider New Den-O Liner Form
Kanata Kira/Kamen Rider New Den-O Vega Form
Anna Hibiki
Dave Satō
Tamagorō Miwa
Momoko Yachigusa
Kiriko Shijima
Akari Tsukimura
Misora Isurugi
Masamune Yūki
Nene Yūki
Suzune Yūki
Momone Yūki
Yoshitsune Yūki
Ken Mayuzumi
Tamaki Enjōji
Chiharu Hachiya
Kagurazaka Risa
Mitsuoka Junko
Reiko Minato
Rokushirō Haryū
Kenshirō Chōno
Mai Chōno
Maito Chōno
Cameo Appearances
Edit
Twilight Sparkle
Pinkie Pie
Sunset Shimmer
Cherry Crash
Yu Narukami
Hyper Metal Sonic
Silver the Hedgehog
Miles "Tails" Prower
Villains
Edit
Other Villains
Edit
Champion of the Nether, Aria Blaze
Entity_303
Dreadlord
Null
Angel of Death
Hadrian
Infinite
Infinite's Replicas
Edit
Replica Bowser
Replica Ganondorf
Replica Mewtwo
Replica Mephiles the Dark
Replica Tirek
Replica Kamen Rider Genm
Replica Deathryuger
Replica Ultraman Belial
Replica Gilgamesh
Replica Kymraw
Replica Baron Dreadbone
Transcript
Edit
For a full transcript, click here
Ultra Series
Edit
Ultra Q
Ultraman
Ultra Seven
Ultraman Jack
Ultraman Ace
Ultraman Taro
Ultraman Leo
Ultraman Joeneus
Ultraman 80
Ultraman Great
Ultraman Tiga
Ultraman Powered
Ultraman Dyna
Ultraman Gaia
Ultraman Nice
Ultraman Neos
Ultraman Cosmos
Ultraman Nexus
Ultraman Max
Ultraman Mebius
Ultraseven X
Ultraman (Ultra Galaxy Mega Monster Battle)
Ultraman Zero
Ultraman Ginga
Neo Ultra Q
Ultraman X
Ultraman Orb
Ultraman Geed
Ultraman R/B
Kamen Rider
Edit
Kamen Rider Ichigo
Kamen Rider Nigo
Kamen Rider V3
Riderman
Kamen Rider X
Kamen Rider Amazon
Kamen Rider Stronger
Electro-Wave Human-Tackle
Skyrider
Kamen Rider Super-1
Kamen Rider ZX
Kamen Rider Black
Kamen Rider Black RX
Kamen Rider Shin
Kamen Rider ZO
Kamen Rider J
Kamen Rider Kuuga
Kamen Rider Agito
Kamen Rider Ryuki
Kamen Rider 555
Kamen Rider Blade
Kamen Rider Hibiki
Kamen Rider Kabuto
Kamen Rider Kiva
Kamen Rider Den-O
Kamen Rider Decade
Kamen Rider W
Kamen Rider OOO
Kamen Rider Fourze
Kamen Rider Wizard
Kamen Rider Gaim
Kamen Rider Drive
Kamen Rider Ghost
Kamen Rider Amazons
Kamen Rider Ex-Aid
Kamen Sentai Gorider
Kamen Rider Build
Kamen RIder Zi-O
Super Sentai
Edit
Himitsu Sentai Gorenger
J.A.K.Q. Dengekitai
Battle Fever J
Denshi Sentai Denziman
Taiyo Sentai Sun Vulcan
Dai Sentai Goggle V
Kagaku Sentai Dynaman
Choudenshi Bioman
Dengeki Sentai Changeman
Choushinsei Flashman
Hikari Sentai Maskman
Choujuu Sentai Liveman
Kousoku Sentai Turboranger
Chikyu Sentai Fiveman
Chojin Sentai Jetman
Kyoryu Sentai Zyuranger
Gosei Sentai Dairanger
Ninja Sentai Kakuranger
Choriki Sentai Ohranger
Gekisou Sentai Carranger
Denji Sentai Megaranger
Seijuu Sentai Gingaman
Kyuukyuu Sentai GoGoV
Mirai Sentai Timeranger
Hyakujuu Sentai Gaoranger
Ninpuu Sentai Hurricaneger
Bakuryu Sentai Abaranger
Tokusou Sentai Dekaranger
Mahou Sentai Magiranger
GoGo Sentai Boukenger
Juken Sentai Gekiranger
Engine Sentai Go-Onger
Samurai Sentai Shinkenger
Tensou Sentai Goseiger
Kaizoku Sentai Gokaiger
Tokumei Sentai Go-Busters
Zyuden Sentai Kyoryuger
Ressha Sentai ToQger
Shuriken Sentai Ninninger
Uchuu Sentai Kyuranger
Zyuden Sentai Kyoryuger Brave
Kaitou Sentai Lupinranger VS Keisatsu Sentai Patranger
Kishiryuu Sentai Ryuusouger
Metal Heroes
Edit
Space Sheriff Gavan
Space Sheriff Sharivan
Space Shieriff Shaider
Kyojuu Tokusou Juspion
Jikuu Senshi Spielban
Choujinki Metalder
Sekai Ninja Sen Jiraiya
The Mobile Cop Jiban
Special Rescue Police Winspector
ToQ Shirei Solbrain
Tokusou Exceedraft
Tokusou Robo Janperson
Blue SWAT
Juukou B-Fighter
B-Fighter Kabuto
B-Robo Kabutack
Tetsuwan Tantei Robotack
Pretty Cure
Edit
Futari wa Pretty Cure Max Heart
Futari wa Pretty Cure Splash Star
Yes! Pretty Cure 5 GoGo!
Fresh Pretty Cure!
Heartcatch Pretty Cure!
Suite Pretty Cure
Smile Pretty Cure!
Doki Doki! Pretty Cure
Happiness Charge Pretty Cure!
Go! Princess Pretty Cure
Mahou Tsukai Pretty Cure!
KiraKira☆Pretty Cure A La Mode
HUGtto! Pretty Cure
Star☆Twinkle Pretty Cure
Madan Senki Ryukendo
Tomica Hero Rescue Force
Tomica Hero Rescue Fire
Super Smash Bros. (series)

Sonic the Hedgehog (series)

Yu-Gi-Oh!
Yu-Gi-Oh! GX
Yu-Gi-Oh! 5D's
Yu-Gi-Oh! Zexal
Yu-Gi-Oh! Arc-V
Yu-Gi-Oh! VRAINS
Persona (series)
My Little Pony Equestria Girls (series)
Aikatsu!
Aikatsu Stars!
Aikatsu Friends!
Chouseishin
Edit
Chouseishin Gransazers
Genseishin Justirisers
Chousei Kantai Sazer-X
Theme Songs
Edit
KyurenOh Combinations:
Kyulette Team:

Shishi Red, Sasori Orange, Ookami Blue, Chameleon Green and Kajiki Yellow
Shishi Red, Ookami Blue, Hebitsukai Silver, Chameleon Green and Kajiki Yellow

It is revealed that Aine Yūki, Mio Minato, Katsumi Minato, Isami Minato, and Subaru Yūki are distant cousins.
It it revealed that Ken Mayuzumi, Anna Hibiki and Makina are the old band members.
Battle Kenya, DenziBlue, Jiraya, Kakurangers, Purple Swat, Blue Swat, Gray Swat, Sharivan, Shaider and Gavan are joining Space Squad.